About Me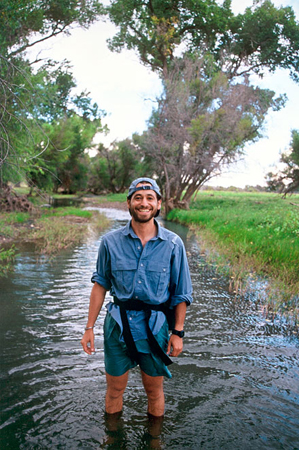 Photography has allowed me to be both an observer and agent of change. As a photographer and teacher, I strive to use my images to encourage others to open their eyes and minds to their own world and the worlds around them. My hope is that this raised self-awareness will help unheard issues and voices be shared, and that necessary change will follow.
This hope has led to me down an eclectic photographic path. Although I have made images my entire life, my fascination with photography as a tool for raising awareness began as a master's student at the Yale School of Forestry and Environmental Studies. For my master's project I taught a group of 9-12 year old children to use photography to share their inner-city lives. My original interest in this project was to explore if the youth found making and sharing their photographs an empowering experience. However, by the end of the project my focus shifted, as I became fascinated by how youth could use their images to share their unique perspectives and educate others. This experience confirmed for me the power of putting the camera in the hands of the people that know their neighborhoods best – the community.
Following graduation, I was commissioned by the Urban Resources Initiative to photograph community urban forestry efforts that are revitalizing New Haven, CT. These photographs were exhibited throughout New Haven to celebrate these urban patches of green and educate the public about the power of urban forestry. After completing this project, I headed west to the deserts of Tucson, where I have continued to work as a photographer. I have freelanced for a variety of institutions – the Arizona-Sonora Desert Museum, Tucson Botanical Gardens, San Francisco AIDS Foundation, Trust for Public Land, Sonoran Institute, Metropolitan Housing Commission, and Peabody Museum of Natural History. For seven years I have collaborated with Tucson's Community Food Bank to undertake a long-term project documenting food systems and food security issues in southeastern Arizona. These images have been exhibited in more than a dozen venues throughout Arizona. My hope is that this project will demonstrate how the decisions we make as food consumers affect many other people's lives and our environment.
In addition to promoting change through my own photography, I teach documentary photography and digital storytelling to youth – perhaps our greatest agents for change. I am the founder of the photography and digital storytelling programs at the Tucson-based nonprofit organization, VOICES, Inc., where I co-managed the youth-produced magazine 110 Degrees for five years. As a VOICES guest artist in 2005/06, I co-facilitated the Looking Forward Looking Back Project, in which Tohono O'odham youth shared their lives and culture through digital stories. Since 2006 I have been traveling to India, where I have worked with young performance artists to photograph their lives and stories in Kathputli Colony, home to nearly 9,000 traditional Indian artists in New Delhi. In collaboration with the nonprofit organization, BRIDGES to Understanding, I have also worked in the far north of India on community digital storytelling projects with Tibetan refugees. In January 2007 I co-founded the Finding Voice program with ESL teacher Julie Kasper at Catalina Magnet High School, where we have been using photography to develop the literacy skills of our refugee and immigrant students. In June 2008, an exhibit of the Catalina students' work was exhibited in the US Senate and six students presented their stories and immigration policy recommendations at a congressional briefing in the House of Representatives. As a result of this and other projects, I am particularly interested in how youth media projects can help ensure youth have a voice in the development of local, state and national policy. During the summer of 2008, I worked in collaboration with the Institute for Research on African Women, Children and Culture to create a digital media program for teenage girls in southeastern Nigeria. From Nigeria I headed to South Africa, where I collaborated once again with Bridges to Understanding by facilitating a digital storytelling workshop for youth and adults in townships outside Cape Town. In addition to working with youth, I have had the good fortune to collaborate with adult educators, community leaders and organizations on photography and digital storytelling projects.
Thanks to the many wonderful people I have had the opportunity to collaborate with, I was awarded the 2010 Grand Prize Activist Award by PhotoPhilanthropy, 2009 Arizona Teaching Artist Award for Outstanding Achievements & Innovation in Arts Learning by the AZ Commission on the Arts (ACA), the 2005 Compass Health Care "Dynamic Duo: Making a Difference Award" and nominated for the national "Patron Saint of Photography" Teaching Award in 2007. Since 2005 I have been selected by the ACA to be included on their artist roster as a teaching visual artist. My images have been published internationally in books, magazines, newspapers, films and web sites, in venues ranging from the New York Times to the Navajo Times.
When not creating photographs or teaching, I search for the perfect slice of pie, stumble over my tongue in Spanish and wander the Sonoran Desert. If you want more detailed information about my background here is my curriculum vitae: CV PDF