Teaching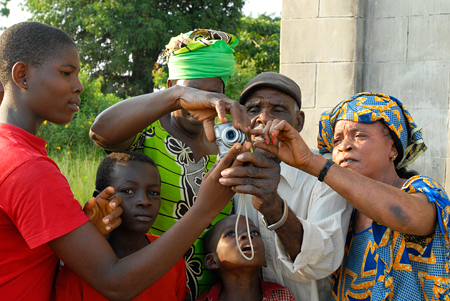 "The real voyage of discovery consists not in seeking new landscapes but in having new eyes."     – Marcel Proust
I stared confused by the prints strewn across the classroom table. I had asked my students, "inner-city" girls from New Haven, CT, to photograph "their environment." I had expected at least a few photos of squirrels, trees and other forms of urban nature, but they brought back images of disapproving teachers, smiling friends and worn faces and corner stores. What had I done wrong? I asked one of my students, "Why are there no images of birds, trees or even grass?" One girl explained, "Nature is boring. People are what are interesting. People are nature to me. My friend is like the grass to me." Other girls shared stories about their negative experiences with urban wildlife – of dogs biting and birds pecking, of squirrels munching on prized possessions in their attics.  As they spoke, my own perception of the "environment" changed. This experience forced me to confront my own assumptions as a teacher, ecologist and product of a middle-class, suburbanite upbringing, and to recognize the power of photography as a means for youth to explore their lives in new ways and to educate others through their eyes. As a first-time teacher this was a powerful lesson, one that I constantly return to and has directly shaped the philosophy and direction of my teaching career.
As my time in New Haven made abundantly clear, communities see their own world through unique lenses, filtered by their own lived experiences. Therefore it is essential that I listen deeply to my students in order to learn from their experiences and help them develop the tools to visually articulate their ideas and stories. This is particularly important to me in relation to youth, as I have found that all too often youth voices are not considered, and when they are, the processes and venues available for youth to express themselves are frequently planned and implemented by adults without input from youth. In light of this, I strive to balance my voice with my students' voices and ensure that youth have every possible opportunity to authentically engage in all aspects of the creative process. Finding this balance is delicate and maintaining it seems to be a constant iterative learning process.
Whether I am teaching in New Delhi, Nigeria, Nogales, or Tucson, my passion for this work has never been driven by a desire to create our next generation of professional photographers. If this happens, great, but I do this work to help youth, teachers and other community members create images and stories that illuminate relationships, nurture community and foster hope, as all too often our mainstream media is filled with stories of despair and conflict.
Perhaps most importantly, I do this because my students are my mentors, reminding me daily about the power of listening, laughter, humility, patience, and empathy – and through the process of making and sharing images they can remind us all.